ATTN 6-FIGURE JEWELRY AND LUXE / HANDMADE PRODUCT BUSINESS OWNERS:
Want to Set Yourself Up for a 7-Figure Year
Join me for a
FREE MASTERCLASS
How to End the Year Strong with Marketing That Matters
Discover the Secrets that Helped Me Reach 7-Figures & Have a Wildly Successful Holiday Sales Season: Use These High Impact, Algorithm-Proof Strategies to Scale Your Sales Without the Burnout!
In This Masterclass, You'll Learn:
The Key to Getting Content for Marketing Completed Quickly - no more stressing about finding time to create your next REEL - you're welcome!
The Single Most Effective Strategies To Help You Crush Your Holiday Goals - discover how to double your impact with the same amount of time spent marketing.
My Simple Rating System to Increase Not Just Sales But Profitability - time to keep some of the hard earned dollars coming into your bank account.
How to "Rapidly Reframe" the BS Stories That Hold You Back -
this is GOLD!
You Can't Afford to Miss This Masterclass If:
CAN'T WAIT TO END THE YEAR STRONG WITH MARKETING THAT MATTERS
You Can't Afford to Miss This Masterclass If:
You Are Committed to Using The Holiday Season Wisely…
..because if you play your marketing cards right, you can say HELLO to achieving your super stretch sales goals!
You Realize That What "USED" to Work is No Longer Working.
These marketing strategies are solid gold. I'll show you how to double down and mirror across multiple sales channels for a better sales result.
You're Ready to Go For It and Reap the Rewards of Working Smarter Not Harder.
Spend less time getting more done so that you can end the year feeling a huge sense of accomplishment because your marketing works!
I live and breathe entrepreneurship - especially when it comes to making and selling physical products like jewelry, ceramics, textiles, handbags, and more.
After 25 years as an entrepreneur with over $8 Million Dollars in Physical Product Sales (Jewelry), I know a thing or two about building a profitable business.
I know what it takes to scale a company to 6+ and 7+ figures annually. I did it in my jewelry company and I'm doing it now with my other businesses.
I also know what it's like to do it wrong: I'm not proud of this but there was a time when I had only $-2.02 in my bank account with payroll due the next day- definitely not fun.
And that's where you come in!
My coaches and I are committed to your success!
Over the past 8 years, we've helped 8100+ jewelers, makers and creative product brands build businesses that create financial security for themselves and their families.
More importantly, we've helped them implement holistic systems and strategies that build businesses that THRIVE in any economy.
This masterclass is the culmination of what we KNOW works to help remove yourself from the daily grind and scale your efforts.
BEWARE!!
When you create the Desired Brand Effect™️ in your business, you'll experience greater financial security, a sense of accomplishment, and a newfound feeling of control over your outcomes.
If you're tired of feeling stuck, overwhelmed, worked to the bone, and frustrated, this masterclass is the answer to your prayers and meditations. This is the sign you've been looking for!
I'm looking forward to supporting you in your journey!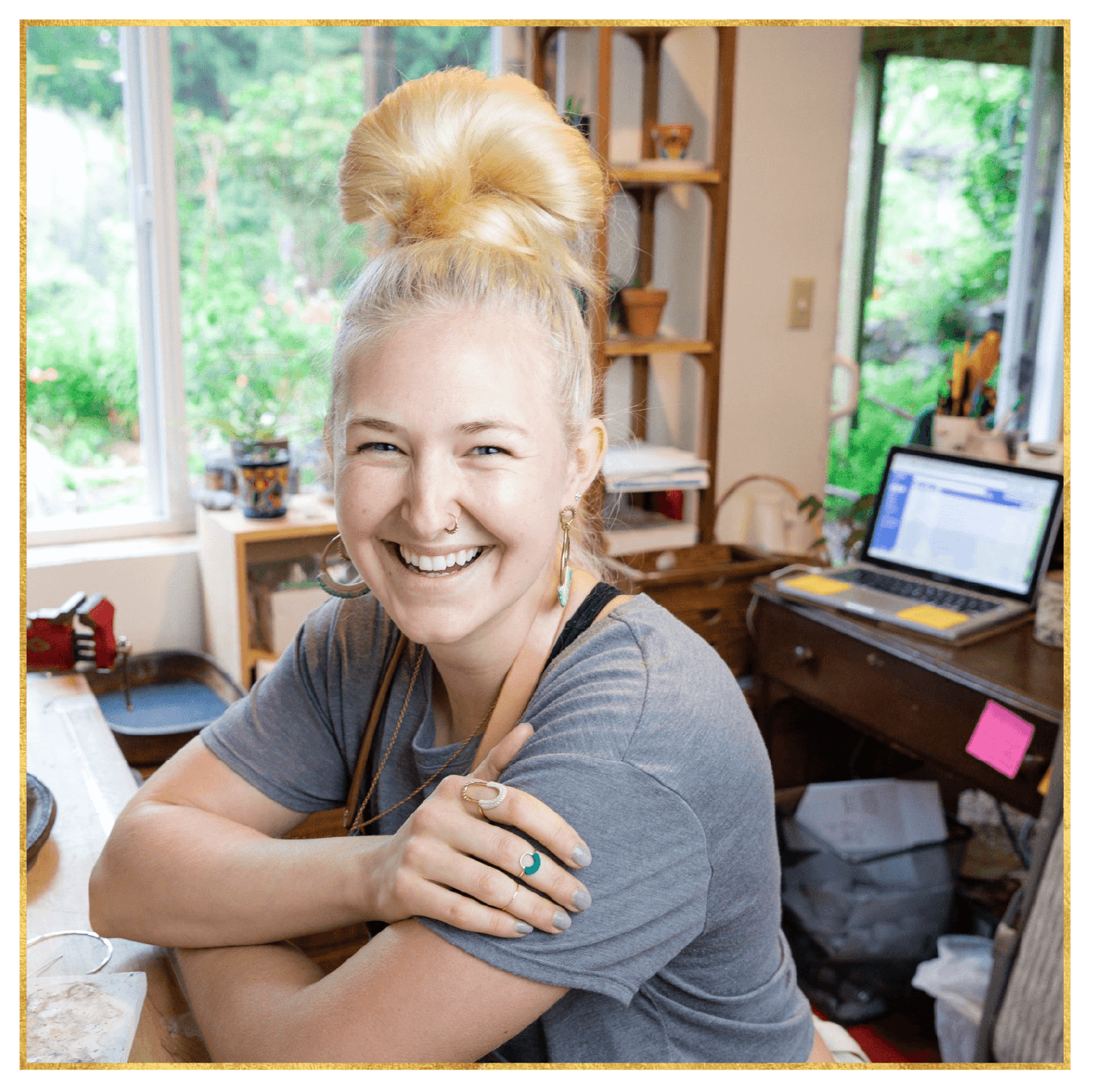 My sales increased 72% within 3 Months.
Twyla Dill,
Twyla Dill Designs
I had a 430% increase in April and a $6000 increase in May.
Karina Harris,
Waffles and Honey
I went from extreme burnout to a 200% increase in sales with Flourish & Thrive.
Nicole Gariepy,
FantaSea Jewelry
Copyright © 2023 Flourish & Thrive Academy. All Rights Reserved. Terms & Conditions | Privacy Policy
This site is not a part of the Facebook website or Facebook Inc. Additionally, this site is NOT endorsed by Facebook in any way. Facebook is a registered trademark of FACEBOOK, INC.