Join Me for an Exclusive 4-Hour Virtual Event
Want my proven visionary roadmap that's made me millions?
Learn the Exact Steps to Validate and Ignite Winning Ideas That Align With Your Vision and Propel Your Business (and Life) Forward (in just 4 hours)!
Join Tracy Matthews, the Chief Visionary Officer of Flourish & Thrive Academy for the Align to Ignite Workshop.
In this 4-hour strategic workshop, Tracy will teach you her proven roadmap to cast a bigger vision, align your ideas with your business goals, and design your business around your life. Say goodbye to idea "ADD" and overwhelm and hello to focus and flow.
You in?
Claim your spot in the Virtual Workshop Now.

Pre-Work Your Aligned Vision Planner
Before we start, you'll complete the first step of the process, the Aligned Vision Planner. In this exercise, you dream big and co-create the beginning stages of what you LOVE to do. You'll also receive pre-homework video lessons to help you write out your vivid vision to align your business from a place of choice with the life you love.
We'll start the workshop with a Mind Mapping exercise to get everything out of your head and on paper. You'll see your ideas and your* life* come to life and get your business and life aligned so that you're operating from your creativity instead of out of obligation.
Next, we'll sift through your brainstorm of ideas and start to align those ideas with your ultimate big picture goals.This is where you get to see how your creative process aligns with your vision of success. The best ideas will bubble to the top.
The Validation System - Test Before You Invest
Creatives have a LOT of ideas and oftentimes they spend unnecessary time and money following ideas that never come to fruition OR don't resonate with what their audience wants and desire. In this session, I'll share some of my favorite techniques to validate if your best ideas are worth integrating.
Your Strategic Business Roadmap
We'll end the session with a strategic business roadmap that fleshes out your next steps to make your vision come to life and your ideas sparkle. You'll have a 90 day strategic plan to move forward with success.
Follow Up Integration Session
In early June, we'll meet for an integration and Q&A call where you can get your questions answered
Let's face it – Not all of your ideas are good! Sorry to break it to you!
The problem is that most creative business owners don't really know how to align their ideas with their vision (if they even bother to spend the time envisioning success). 
The result is a slow churning business that creates burnout, overwhelm, and a lot of cash dumped down the drain.
Here's why: not all of our ideas are good. If you're spending creative energy on strategies that don't move the needle or that your customers DO NOT want, then you're just wasting time.
Now let's look at the flip side!

When you're crystal clear on what you really want and allow yourself to dream big – amazing things will happen when you align your vision with your best ideas. 
It doesn't stop there! You need a process for validating the fantastic ideas vs. the terrible ideas to stop wasting your time, creative juices, and cold hard cash on the things that don't matter. 
Once you've done that, you need a business roadmap that brings your vision and ideas to life - hello next level success.
The result?

More focus and flow. Less stress. More cash in your bank account. And ALIGNMENT with what matters most.
My process works. Here's how I know.
I developed this process for myself to reach my first million dollars in annual sales. It's helped me sustain multiple businesses at the same time.
Now, I teach the exact same strategy to my 6 figure coaching students and 7+ figure consulting clients and they are getting amazing results. 
This is what inspired me to create the Align to Ignite Workshop.
I typically charge $3000 for a 2-day event teaching this exact same strategy. That's why it's valued at $997. I'm offering it to YOU for just $97 for a limited time.
Use this proven formula to do epic sh*t that's aligned with your deepest desires.
Operate from a place of choice instead of obligation. Focus on what really matters. Grow your business quickly.
Hey There! It's Me, Tracy Matthews!
I've spent my entire career in the fashion, jewelry, and creative product space → first as a designer and maker, and now as a mentor to designers, makers, and creative entrepreneurs. 
Over the years, I've founded 4 companies including two jewelry brands, Flourish & Thrive Academy, and now Creatives Rule the World. Today, I help brands of all sizes from start up to 5, 6 and 7+ figure sales. 
Over my 25 years of entrepreneurship, I've seen and done it all in business and because I've experienced many highs and a few lows, I know the secret sauce to success. That sauce starts with getting crystal clear on where you're going and aligning your business strategies, ideas, and products with your vision of success.
 Your Aligned Vision is your roadmap to success - and it doesn't stop there.

When your ideas and strategies are aligned with your vision, your business falls into place, marketing and sales become easier and more abundant, and you lean into more joy daily. 
Choose the right ideas. Operate from a place of choice as opposed to obligation. Spread your wings and soar!
I hope you'll join me for the Creatives Rule the World, Idea to Launch, Workshop. See ya there!
xo, Tracy
Here's what my mentees say about working with me
"Tracy will help you achieve your goals."
Nina Cooper
Owner, Nina Designs
Tracy Mathews is that friend who will take you by the hand and walk you through the critical steps of branding, strategy, and financial planning that are critical to achieving your goals. 
"I've hit goals I never thought possible."
Alex Camacho
Owner, Acid Queen Jewelry
With Tracy's guidance and help from our amazing community, I've hit goals I never thought possible and have the confidence and tools to continue to build and grow my business. Tracy's dream is to help designers like myself realize our dreams and without her help, I wouldn't be where I am today.
"My design story made it into Forbes.""Tracy has completely changed the way I run my business."
Wendy Pritchard Hively
Owner, CharlieMadison Originals
Tracy has completely changed the way I run my business and how I perceive myself as a business owner. She doesn't just talk the talk - she is passionate about helping other business owners succeed with her focus on specific activities that bring in sales. Her infectious enthusiasm and emphasis on mindset have motivated me to shift from working in my business to working on my business. She has been so much more than an inspiration to me – she has helped me to create a tangible vision for my company's future, where I'm running my business full-time, instead of just dreaming about it.
Join me for the Align to Ignite Workshop to…
Cast your Vivid Vision and manifest your dream life
Design your business around that vision and your life goals
Catapult into your next-level business and personal growth
Finally, operate from a place of choice instead of obligation
Validate your ideas to support the long term growth of your company
Join today for early bird pricing at just $97 ($997 value)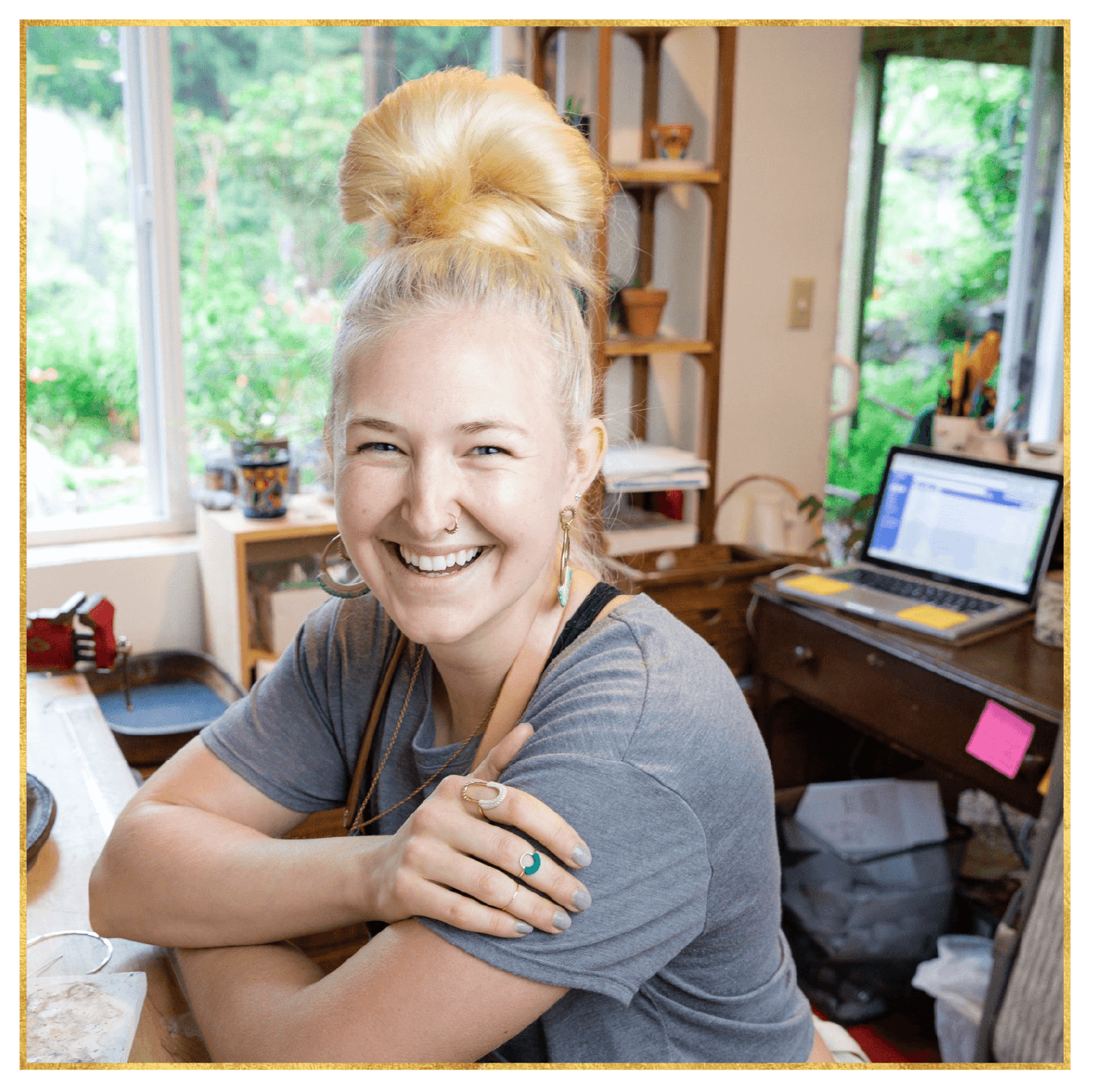 My sales increased 72% within 3 Months.
Twyla Dill,
Twyla Dill Designs
I had a 430% increase in April and a $6000 increase in May.
Karina Harris,
Waffles and Honey
I went from extreme burnout to a 200% increase in sales with Flourish & Thrive.
Nicole Gariepy,
FantaSea Jewelry
"Finding F&TA has given me exactly what I need"
Tisha Abrahmsen
Owner, Andre Glass
Before discovering Flourish and Thrive Academy, my business was barely surviving, sales were stagnant, and I felt alone and unsure what to do about it. I had no idea how other designers of fashion jewelry "made it". Finding F&TA has given me exactly what I need to build a successful jewelry brand!
"I've doubled my sales each year."
Helen Stiver
Owner, Charming Little Lotus
I spent hours on the internet searching for jewelry business info and made mistake after expensive mistake before finding F&TA. Now I've made lifelong friendships, received unlimited support, and doubled my sales each year. Without question, I'd recommend investing in yourself and your business by joining this incomparable community.
"Nothing here is cookie-cutter!"
Lisa Vrooman
Owner, Talks to Animals Shop
In less than 6 months, I've been able to go from hobbyist to running my business professionally. The F&TA programs have saved me so much time and money plus the quality of information they provide can be tailored to you and your vision of success - nothing here is cookie-cutter!
"I'm bringing in 5 figures a month!"
Melissa Camilleri
Owner, shopcompliment.com
My list of paying customers grew by 2500%, my social media following has skyrocketed to 16,000 and I now run a successful jewelry business that is bringing in 5 figures a month.
"I've seen a 15% increase in sales this year."
Colleen Mauer
Owner, Colleen Mauer Designs
Since I started F&TA I have definitely seen major growth in my business. In 2012 my business grew about 25%. I started working with Tracy & Robin right before the 2012 holidays and I saw such a spike in December it was unbelievable! Because of the amazing knowledge, support and community I have received from F&TA, I decided to continue working with Tracy & Robin and I am so glad I have. I have seen a 15% increase in sales this year and can not wait to see what happens as we approach the 2013 holidays!
"A tribe of peers and amazing coaches on tap!"
Juliet Erskine
Owner, Jules & Rose

I am so grateful to have a tribe of peers and amazing coaches on tap! Without F&TA I would feel really isolated in my own business!
Join Me for an Exclusive 4-Hour Virtual Event
Join me for the Align to Ignite Workshop
Claim your seat now for one easy payment of $97

Copyright © 2023 Flourish & Thrive Academy. All Rights Reserved. Terms & Conditions | Privacy Policy
This site is not a part of the Facebook website or Facebook Inc. Additionally, this site is NOT endorsed by Facebook in any way. Facebook is a registered trademark of FACEBOOK, INC.