12 Ways to Finish the Year Strong in Your Creative Business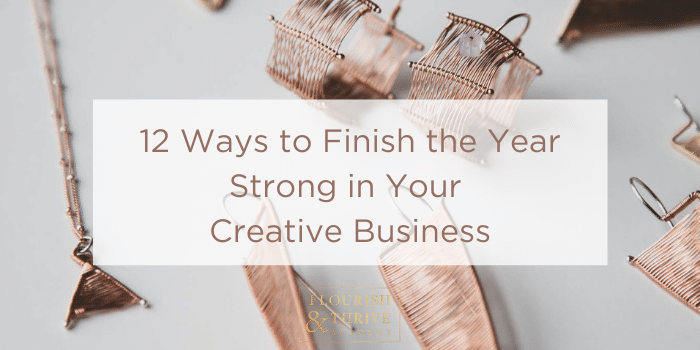 We are almost through with 2020. Crazy, right?!
So much has happened this year, and pretty much nothing went according to plan. There are probably a few things that didn't end up happening for you or your creative business because of it.
But the year isn't over yet. There's still time to tie up loose ends and finish 2020 strong.
It can be so easy to feel hopeless. You may even feel like you want to throw in the towel on your dreams and business goals for the end of the year. I know I've felt that way a few times over the past few months…
But today I want to talk about why you should keep going with the 12 tips I follow to help me turn the ship around to end the year strong – both for marketing goals and mindset.
Prefer to get your business information through your ears? Tune in to Episode 274 of the Thrive by Design podcast while you read.
Here are 12 tips to help you hit your creative business goals and finish 2020 strong.
Tip 1: Clean Out Your Email Inbox
Before we get into wrapping up the year and hitting your end of the year sales goals, let's start small. It's amazing how simple sources of stress can become the straw that breaks the camel's back when you're overwhelmed.
Your email inbox is one of those small, but significant, sources of stress you should take care of to set yourself up for success during the busy season. When those holiday orders start coming in, it will be much more manageable if your inbox isn't already flooded.
Tip 2: Organize Your Work Station
What's more satisfying than the rare sight of a tidy workspace? Just like with your email inbox, you'll be better equipped to chase your business goals and finish the year strong if you have a clear head and a clean work station.
Remember, you're a product of your environment. Try to make that environment as nice as possible!
Tip 3: Set Clear and Measurable Goals
If you had to pick just ONE thing that is preventing you from reaching your business goals as a creative entrepreneur, what would it be? Something I hear a LOT of students complain about in our training programs, like Laying the Foundation, is the struggle to stay motivated.
Setting goals the right way is critical to keeping the momentum going all the way through Q4 and into the next year. Your goals, whether they be personal goals, sales goals, team goals, or marketing goals, should always be specific, measurable, and important to you.
Vague goal: My goal is to make more sales.
Clear goal: My goal is to improve my Q4 sales by emailing my list twice a week and driving traffic to my website.
The first goal is great in theory, but it needs to be broken down into more specifics before you can make a plan to achieve it. The second goal is specific, measurable, and achievable.
Tip 4: Create A Marketing Calendar
Nothing will help you hit those holiday sales goals and finish the year strong like knowing exactly what's coming up, weeks – and even months – in advance.
Make a calendar to map out your marketing goals and get a birds eye view of all the content that needs to be created before the end of the season. Start with Q4, but try to plan even further ahead to set yourself up for success in the new year.
What to put on an end of the year marketing calendar for a creative business:
Email Marketing
Blog Posts
Social Media
Video Content
Advertising
Team Goals
Product Launches
Deadlines
Extra emphasis on email marketing. Regular email marketing should be one of the foundational pieces of your overall marketing strategy.
My recommendation is to email your list at least once a week if you're just getting started and upwards of three times per week for more experienced creative entrepreneurs.
Check out our done-for-you holiday sales marketing calendar for more guidance.
Tip 5: Try Batching Your Work
Successful creative businesses that finish the year strong do so by putting out a ton of content during the holiday season. If the thought of creating this much new content sounds overwhelming, try batching your work by creating similar content all at once.
This is where planning ahead is so important. For instance, if you know you need six videos, four blog posts, and twelve emails for the month of December, there's no reason to do them in order. Dedicate one day to filming all the videos, set aside a few hours to batch all the emails, etc.
Batching content creation like this makes the whole process much smoother.
Ideas for creating content to help you reach your end of the year goals:
Write compelling email subject lines: Half the battle with email marketing is getting your emails opened. Try batching a bunch of catchy email subject lines to get the ball rolling on writing your emails.
Refine your Call to Action (CTA): Use captivating imagery and copy to get your customers' attention, then push them toward a strong CTA in social media posts, emails, and ads. Start by refining your CTA and think about how you can structure content around it.
Think through the lens of know-like-trust: One of the biggest mistakes I see creative entrepreneurs make is that they are either pitching too much or not at all. Create content that will help your customers get to know you, start to like you, and eventually come to trust you – that's when they feel most comfortable buying from you.
Remember, just because you're creating content faster doesn't mean you should sacrifice the quality. Don't forget to double check for errors!
Tip 6: Reassess Your Business Processes and Systems
The end of the year is the perfect time to reflect on your business processes and systems. What's working, and what's not?
Sometimes, things that worked earlier in your business might not be serving you anymore. Albert Einstein said it best, "We cannot solve our problems with the same level of thinking we used when we created them."
Think of it as breaking out of your "comfortable, but no longer working" zone. Try journaling honestly about where you want your business to be and ways it's falling short.
You might even need outside eyes on your biz to really break through a plateau. Consider sending out a team survey or investing in some business coaching to help you see what you're too close to see.
Tip 7: Keep Your Eye On the Prize
It's been a long year, and you've worked hard. What's motivating you to keep hustling and finish the year strong?
Even the most passionate creative entrepreneurs need something to look forward to, an incentive to keep working. Make a plan to reward yourself (and your team!) at the end of the busy season, and keep that in mind when you're in a slump.
Self care is important, and you know yourself better than anyone. Some days you may just need to take a break, do some journaling, meditate, go for a walk, or any other activity that makes you feel revitalized.
Above all, always make time to reflect on your why. Don't lose sight of the reasons you started your creative business in the first place.
Tip 8: Focus On Connection
Creative business owners should never underestimate the power of grassroots marketing.
If you're wondering how you're going to build your audience at the end of the year, the best place to start is with the people you know.
Reach out to your network, including: your previous customers, friends and family, colleagues, alumni, schoolmates, etc. You never know who might be interested in buying your jewelry. Even if your network isn't buying right now, your business will be front of mind for them to suggest to their own friends and family.
3 strategies to help business owners connect with their grassroots network and finish the year strong:
Strategy #1: Thank previous customers with a gift card for them to use at your shop or give to a friend. This is a perfect way to move customers from 3rd party platforms onto your website and generate an additional sale
Strategy #2: Send direct mail to your VIP list with a thank you and a gift card. This reinforces your relationship with that customer and triggers an additional sale.
Strategy #3: Send a re-engagement Direct mail campaign to previous customers from in-person shows and events who haven't been able to make it to shows lately. This keeps your business top of mind and encourages more sales.
Tip 9: Send A "Thank You" To Your Team, Clients, and Collaborators
Wherever you are in business, you didn't get there alone. Take the time at the end of the year to say "thank you" to the people who have supported you along the way. Your team, your customers, your collaborators, and anyone else you're grateful for.
"Thank you" ideas for people who support your business:
A personalized thank you email.
A thank you card in the mail.
A small gift basket.
A meaningful phone call.
A gift card or coupon code.
A free product, "just to say thanks."
Whether you're an established brand or you're just getting started in business, gratitude goes a long way toward maintaining both a positive mindset and a support network of people who will be there for you.
Tip 10: Let Go of "Failures"
Now that I've covered how to finish your year strong in regards to your marketing and sales goals, let's talk about how to shift your mindset for success. You might be familiar with the saying, "You need to get out of your own way to be successful."
There is a reason why we say that, and it's because we're often our own worst enemies when it comes to self-sabotage and self-limiting behaviour.
Here's the thing, m'dear. 2020 has been a tough year for everyone. Nobody could have predicted the challenges facing business owners and our communities this year. It's time to cut yourself a little slack.
Whatever you perceive as failure is not representative of your inherent worth or competence. If anything, it's an opportunity to learn from mistakes and improve for the years to come.
Tip 11: Reframe The Stories That Hold You Back
I want to share a quick tool that I've used to flip the script on self-sabotage and self-limiting behaviour that either keeps you stuck where you are or that causes you to keep repeating the same patterns that don't serve you or your goals.
You can't finish the year strong if you're fighting with yourself.
Reframing exercise for…
Step 1: Take a moment to write down a limiting belief or a story you tell yourself after something happens that sends you into an emotional tailspin.
Step 2: Flip the script – write the opposite, positive version of that story.
Step 3: Find evidence that the "new story" is true. This is a non-negotiable step.
Just by finding some evidence, your original story starts to fall apart. That's the magic of this exercise. You can use it to dissolve the stories/explanations/reasons that are getting in the way of your business goals.
Tip 12: You Decide What's Next
Now that you've shattered those limiting beliefs and negative stories you've been telling yourself, it's time to take action!
You're ready to finish the year strong and enter the new year with new goals and a better mindset. Ultimately, you get to decide what's next for your business.
Sometimes the next right step is investing in yourself and your business with education and mentorship. We love helping designers and makers of all experience levels grow their businesses with tried-and-true strategies. The journey to the business of your dreams starts with our Laying the Foundation program. We can't wait to see you soar and end the year strong.