Shopify, Woocommerce or Squarespace: Best E-commerce For Creative Businesses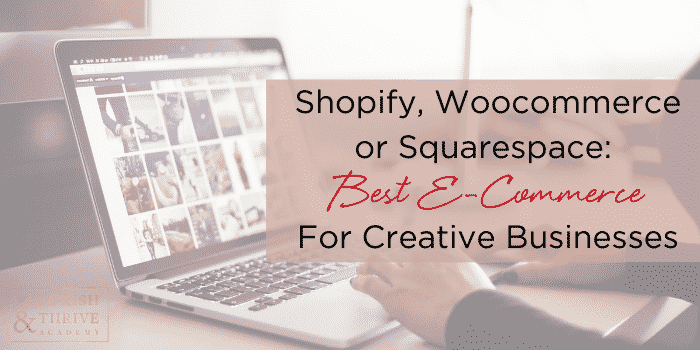 We're fortunate enough to live in an online world where physical storefronts are no longer necessary. But, just like the perfect location or building makes all the difference, so does your choice of e-commerce platform.
The right e-commerce platform will act as a solid foundation on which to build your jewelry empire. With the right platform, you'll be able to grow your business, make online sales with ease, reduce stress about bookkeeping, and focus on your jewelry or creative business.
There are dozens of big e-commerce platforms to choose from, so it might be hard to know which one to choose. To help you find the right e-commerce platform for your business, we're going to compare Shopify vs. Squarespace vs. Woocommerce. But first, let's take a look at what you need to consider when researching e-commerce platforms.
What to look for in an e-commerce platform
No two businesses have the same needs. Whether you're a fledgling company or a flourishing jewelry business, you need to consider your particular needs and requirements when comparing e-commerce platforms. It's for YOUR business, after all.
When researching and comparing e-commerce platforms, there are several questions you need to ask to determine which e-commerce platform is the best choice for you:
Do they offer a free trial? Many platforms do provide a free trial. Take advantage of this and try any e-commerce platform that meets your criteria. Use your trial wisely, and dedicate as much time as possible to exploring its features and benefits. Check out the Shopify free trial to see if this platform is a good fit.

What can you afford? Plain and simple, you have to consider your budget. Some e-commerce platforms are made for startups and are priced to attract new businesses. Others are targeting enterprise clients, and their fees are structured accordingly. Put your budget at the forefront of your search.

What kind of volume do you need? If you're only making a handful of sales each month, you likely don't need a platform or plan that's intended for businesses selling wholesale. But, it's still a good idea to consider a platform that works for you now and allows room for your inevitable growth.

Do you already have a website and hosting? Some e-commerce platforms include hosting and website design. If you already have a website and hosting setup, you can broaden your options and find a dedicated platform that doesn't come bundled with hosting services.

Do you need an in-store or physical POS? If you have a retail location or regularly sell at trade shows and markets, a point-of-sale (POS) setup is a valuable feature to consider.

How easily does the platform scale? Your business will grow, and so too will your needs. If price is a factor, let that drive your decision. Ideally you want an e-commerce platform that can scale as your business grows.
The above questions will keep you on the right path and help you select the right e-commerce platform for your creative or jewelry business. But, remember: no decision is forever. If you choose a platform and later feel you made a mistake, consider migrating to another platform.
Shopify 101
Shopify is one of the largest e-commerce platforms in the world, and for good reason: you can do almost anything with it.
Whether you're just starting a business, or have customers around the globe, Shopify has a variety of plans and features that make it a solid e-commerce platform for your online store:
Shopify has more than 70 themes that are easily customizable to fit virtually any business type.

Shopify web hosting and domain registration are beneficial if you're just starting your online presence and need technical help.
Shopify provides a mobile-friendly storefront that is available with Shopify web themes. This is key since it's predicted that by 2025, greater than ten percent of all retail sales in the U.S. and abroad are expected to come from mobile devices.

Shopify paid specialist services, like digital marketing and SEO assistance.

Shopify Compass is a giant learning hub led by experts in business and marketing.

Shopify Point of Sale allows you to quickly set up your Shopify store in a brick-and-mortar or trade show and collect payments.
There's little Shopify can't do, and for that reason it tops our list of e-commerce solutions, plus they offer a free trial! But, what about the competition?
Woocommerce 101
WooCommerce is a free plug-in that connects to your WordPress site. It's a tried-and-true e-commerce tool used by thousands of businesses. WooCommerce, like Shopify, has several robust features to consider:
WooCommerce runs on WordPress, meaning if you're familiar with WordPress, you'll feel right at home using WooCommerce. There are also a lot of themes and extension overlaps between WordPress and WooCommerce.

WooCommerce is a powerful content tool and is especially great for those looking to run a blog, incorporate video marketing, or integrate social media content into their store.

WooCommerce is open-source, meaning virtually anything's possible. WooCommerce allows you to customize your site to your heart's content. With a large online community of users and developers, you can find solutions to almost any technical problem you want to solve.
WooCommerce supports more than 400 extensions. This means many of your favorite WordPress extensions should work on your e-commerce site.
WooCommerce is a popular e-commerce platform that's especially powerful in the hands of a developer. Whether that's you or someone you hire is another question you'll need to consider.
Squarespace 101
Squarespace is an online website platform known for its intuitive site builder, flashy themes, and extensive uses. But, unlike Shopify and WooCommerce, Squarespace is more than an e-commerce platform.
Squarespace features online store templates, as well as traditional portfolio and web templates.

Squarespace product pages are built to showcase your products in a professionally designed manner.

Squarespace supports unlimited payment methods, meaning you can take virtually any kind of payment. This is great for businesses with an international clientele.
Squarespace is often used by those looking to showcase their work via a portfolio, but their e-commerce sites are equally appealing and functional. If you want a professionally-designed site that's easy to put together, Squarespace is worth consideration.
Shopify vs. Squarespace vs. WooCommerce for Jewelry Businesses
Comparing Shopify to Squarespace to WooCommerce is no easy task. All three e-commerce platforms have their strengths and weaknesses, and none of them is necessarily a wrong choice. To better determine which e-commerce platform is right for you, you must consider and compare each platform's pricing, support, and customizability.
E-commerce Platform Pricing
When it comes to pricing, all three options have a wide variety of plans and costs associated with them.
Shopify starts at $29/month and goes up to $299/month, with a 2.4-2.9% fee + 30 cents added onto any purchase depending on your plan. If you're a high-volume store, this adds up quickly, so be sure to crunch the numbers.

WooCommerce is technically an e-commerce plug-in, not a site, so it's free to use. But, you still need to find and pay for website hosting, a domain name, and a payment processor. These can vary in cost, so be prepared to do some research.

Squarespace starts at $18/month for a business plan and increases to $40/month. The $18/month plan charges a 3% fee on all purchases, while the $26 and $40 plans have no transaction fees. This gives Squarespace an edge over Shopify's pricing structure and makes them especially appealing to high-volume stores.
If you're comfortable setting up your payment processor and essentially building your site from scratch, or you have the budget to hire a developer, WooCommerce is potentially the cheapest. But, Squarespace has a mid-tier plan that's cheaper than Shopify's entry-level plan and requires no transaction fees, so they're worth considering too, depending on your budget.
E-commerce Platform Support
Ongoing access to technical support is an important consideration. The last thing you want is a down e-commerce site with no way of getting it back up and running.
Shopify features a support request form, online help center, web community, email, and chat support. If you have a problem, you have multiple routes of finding an answer.

WooCommerce support isn't as broad as Shopify's, with your options limited to an online help center of documents and resources and a help desk that allows you to submit a ticket. Still, the help desk is relatively quick in assisting customers.

Squarespace has an online help center with videos and guides, a searchable help center, and the ability to connect online with an advisor.
All three options offer pretty solid support. Keep in mind all three platforms are incredibly popular, so you can find numerous YouTube videos addressing a wide range of topics at your disposal as well. While YouTube isn't always as ideal as live support, it can quickly help you find the answers you need.
E-commerce Platform Customizability
Shopify, WooCommerce, and Squarespace all have fairly customizable platforms, but there are some clear pros and cons to each in this department:
Shopify has more than 70 themes that are all customizable to a great extent. You can make most of their themes work for your jewelry business, easily add your branded colors, and ultimately personalize the theme with your unique look. However, Shopify extension options are a bit limited.
WooCommerce is a plug-in that runs on WordPress, so customizability is essentially unlimited here. WooCommerce works well with most WordPress themes, and there are thousands of themes to choose from. Let's not forget the hundreds of extensions WooCommerce works with. In short: you can customize anything with WooCommerce.

Squarespace is more customizable than Shopify, as you have a more comprehensive number of templates to choose from as well as a web builder. This gives Squarespace a slight edge ahead of Shopify, but it still falls behind WooCommerce's ease of customization.
All three e-commerce platforms will likely allow you to design and build precisely the online shop you want, and one that is optimized for bringing in consistent sales. But, if you want near-unrestricted customizability, WooCommerce is hard to beat.
Additional features and services
You can find freelance assistance to help with virtually any service you want, but it's still nice to have built-in services available. Your options vary quite a bit depending on the platform you choose:
Shopify offers a wide variety of add-on services, from their POS system to digital marketing support. Shopify also includes a marketing suite, featuring analytics and email marketing campaign tools. These can be beneficial as you grow your business, but keep in mind there are also free alternatives on the market if you choose another platform.

WooCommerce is a plug-in, so the add-ons are understandably limited. But, keep in mind you can supplement WooCommerce with virtually any WordPress extensions or plug-ins or use a freelancer if you want to add marketing tools.
Squarespace is relatively light in the add-on service area, but they have various marketing tools that allow you to launch and track multiple campaigns. This is similar to Shopify, with the added benefit of Squarespace's lower monthly cost.
If you're looking for a complete all-in-one experience, Shopify is hard to beat. But, if you want flexibility and don't mind finding freelancers for additional services, WooCommerce is free and completely customizable. And lastly, Squarespace is less costly than Shopify and still includes many of the same powerful tools Shopify does.
Marketing your new store
No matter which e-commerce platform you choose, you need to market your jewelry business if you want your brand to get noticed and truly shine. With our Ultimate Online Marketing Guide for Jewelry Designers, Makers, and Retailers, you can make marketing a breeze with:
Strategy tips for email marketing, website content, social media, and more
Organizational tips for your marketing
An online checklist for marketing your jewelry brand
And so much more!
Your jewelry or creative product deserves to be seen by the world. Take your first steps toward making that happen using our FREE and easy guide today.
Download your Ultimate Online Marketing Guide for Jewelry Designers, Makers, and Retailers