How a Jewelry Business replaced in-person revenue with online sales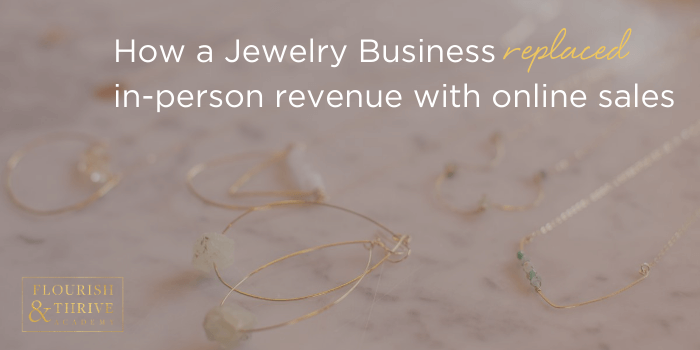 Today I'd like to introduce you to one of our Momentum superstars, Karina Harris of Waffles & Honey. Karina's an amazing designer from San Francisco––and you won't believe her story!
Karina came to us six years ago when she was just doing jewelry design as a side hustle. Then she was laid off from her corporate job, and when they offered her a new position in a different department, she turned it down to focus full-time on her jewelry business.
At the time, she knew she needed a mentor to help her shift her business to bring it full-time and to replace her corporate income.
She found us online and thought Momentum might be the thing that would help her reach her goals. Her business was already pretty successful, so she wondered if Momentum would actually be able to help her grow beyond where she already was.
She took a leap of faith––and she's been with us now for six years.
Since she started with us in 2014, Karina has brought her business from part-time to multiple six-figures. She did this incrementally by following the guidance she received in Momentum.
But that's not the success story we're focusing on today.
Karina's jewelry sales were dependent on time-consuming in-person events & pop-ups.
Last October, Karina had a strategy call with us where we talked about what she wanted to accomplish next. Her main problem was that she had built her business to depend on in-person events and pop-ups, and she was frustrated that it was taking up so much of her time.
Without meaning to do it, Karina had made herself indispensable––she was the face of her business, and even though she tried hiring salespeople to take her place at the in-person shows, they were never able to replicate the success she had when she went to these events herself.
Karina wanted to increase her online sales so she wouldn't have to do as many in-person shows in the first place. She was feeling exhausted and burned out from all the time she had to devote to selling her jewelry face-to-face. She saw boosting her online presence as a solution that would give her some of her life back.
We worked with her to develop a plan to slowly get her out of the endless show circuit and back in her studio watching her online sales rack up. She hired some people to help her, got some systems in place, and was ready to go for it!
And then COVID hit, and all her shows were cancelled.
Karina was pretty concerned, not gonna lie. Suddenly her main source of revenue was gone––in-person shows and pop-ups in April and May were all canceled.
Now, Karina would be the first to tell you that she sometimes has trouble letting go of the reins and trusting the process. Switching things up can be hard for her, especially when she knew the stuff she had been doing had been working to get her to her current level of success.
In this instance, Karina had to adapt and take action right away––there was no time to waste! She had to adapt her plans and her strategy on the fly.
How Karina took her in-person business online within 2 months
So Karina implemented everything we advised her to do:
She emailed her list more frequently (MUCH more than she was comfortable with),
She participated in online events, and
She used direct mail as a method of staying in touch with her top clients.
In April, Karina started emailing her list every other day, which was WAY more often than she was used to.
But she soon started seeing results, including a 430% increase in her online sales, which was HUGE––it replaced all the revenue she would've made at in-person shows in April! Her emails sold every time she sent them out.
Karina did a virtual event with Facebook, which replaced a big chunk of what the in-person shows would've made in April.
She also made her own events, including personalized styling sessions with some of her best customers. These events created a lot of revenue.
For her Insiders (the top 22 customers who spend thousands of dollars a year with her), Karina sent them all direct mail checking in with them and inviting them to shop online. When she found out that two of her Insiders had been laid off, she sent them each a little gift––and those two Insiders then referred Karina to their friends, resulting in more sales.
She also used direct mail with other customers and got a TON of sales from that strategy, including lots of repeat sales!
In May, Karina really hit it out of the park.
The online marketing strategy that replaced her biggest in-person sales event
She started sending out daily emails early promoting her Mother's Day online event to replace her traditional Mother's Day pop-up, which has historically been one of the biggest sales generators of the year. Karina replaced the revenue she would've made at her pop-up by showing up differently for her customers and getting creative––for instance, she offered free local curbside pickup for her Mother's Day online event.
As a result of her hard work and creativity, Karina increased her May sales by 68% over the previous year IN THE FIRST 8 DAYS. By the end of May, she had increased her sales by $6000 over her super stretch goal!
Now Karina feels reinvigorated and has plenty of energy to tackle the things she really loves to do (like design jewelry!). She's super thrilled with her results––2020 is on track to being her best year ever.
What would it mean for you to make 2020 your best year ever?
Let's do a free Strategy Audit to see if you'd be a great fit for Momentum. Go to https://www.flourishthriveacademy.com/strategy/ to apply!