EP392: How to Grow Your Custom Jewelry Business in 2023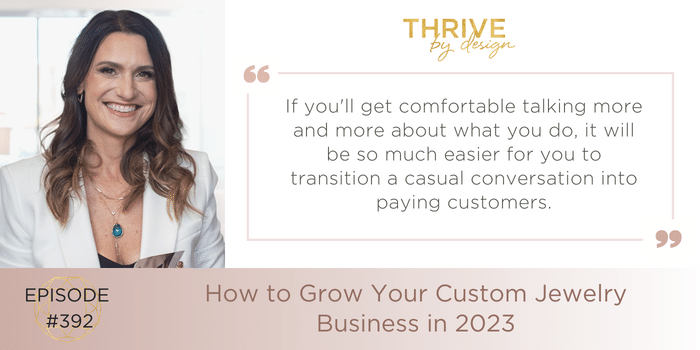 One of the best moves I ever made as a jewelry designer was scaling down my jewelry business to focus only on fine, custom jewelry for private clients.
The reason WHY I love it so much is because you can make so much more money per piece when you're delivering an experience for someone.
It took me some time to get it going but when I did amazing things happened – the referrals from google, my previous customers, and social media started flooding in.
To this day, I barely need to market my jewelry business anymore to make multi-six figures a year working no more than 5 hours a week on the business.
If you've been considering upleveling your design game and launching or improving your current custom + fine jewelry offer, you'll love today's podcast
I'm breaking down some of the key things I set in motion to show you how to grow your custom jewelry business this year.
Listen to EP392: How to Grow Your Custom Jewelry Business in 2023.
During This Episode I Chat About…
How I get consistent referrals from Google (with content I posted years ago)
The one "ASSET" on my website that helps me get customers to fill out my inquiry form and pay double their budget
My networking tip that has landed more clients than paid ads ever could
The process I use to get previous clients referring their friends and designing new pieces every season
And so much more!
I hope this episode inspires you to grow your custom + fine jewelry business this year!
xo, Tracy
Sponsor Spotlight!
Links:
Apply for the Custom Jewelry Accelerator
Jewelry Business Owner's Growth Guide
Buy My Book: The Desired Brand Effect
Subscribe on Your Favorite Podcast Platform