#270 3 Ways to Test Your Black Friday Offer Before Cyber Weekend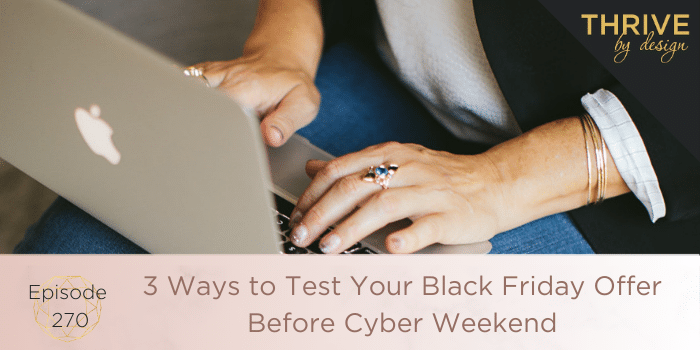 The weekend of Black Friday and Cyber Monday is probably the most important weekend of the year for small e-commerce business owners.
We're nearing the end of September right now, which means it's time to spring into action and get ready to pull off an epic Cyber Weekend promotion.
It's possible you're thinking, "Tracy, isn't it a little early for this?" Not at all, m'dear!
The months leading up to Cyber Weekend is prime time to be building your audience and generating leads.
That means you should be…
Building your email list.
Growing your social media following.
Boosting engagement in your Facebook groups.
Mapping out a grassroots marketing plan.
Incentivizing customers for referrals.
Creating lead magnets.
Running ads.
…And ANYTHING ELSE you can think of that will expand and engage your audience so they're ready to buy when that glorious sale weekend rolls around.
While you're doing all this, you may want to take the opportunity to test out your Black Friday offer in advance, so you're ready for the big day.
There are quite a few different ways to do this, with the pros and cons of each strategy.
Click here to download the show notes
Pre-Sell 1 Month Early
Know what you're going to offer at least one month in advance. Then, you can do some kind of flash sale or quick promotion at the end of October to test out that offer.
Pros: It's a nice opportunity to make some sales right before the big holiday season. You get people warmed up to your brand, and you may even be able to capture some new customers while you're at it. Plus, adspace will be way less competitive than it will be during Cyber Weekend.
Cons: If you do the exact same offer for Cyber Weekend, people will already be familiar with it. You can work around this by changing the offer slightly and/or selling never before seen product for the final promotion.
Pre-Sell to VIPs
You know those loyal customers who buy from you over an over again? This is your chance to reward them with an exclusive sale while you test out a new offer.
It's as simple as sending some emails that say, "Hey, I'm having a pre-Cyber Weekend event just for you!"
Pros: You make your VIPs feel special and hopefully make some extra sales before the big weekend. You can ask for social proof and feedback in exchange for a little bonus.
Cons: Similar to the first one, people may not be as interested in your Black Friday offer if they've already seen it.
Pre-Sell Through Ads
This strategy is particularly advantageous since it's harder to secure adspace the closer you get to Black Friday.
Pre-sell the offer through advertising only. That means a short 3-4 day promotion that you don't include in emails or on social media.
Pros: You can test ad copy ahead of time and see how people react to it while expanding your audience in the process. If it goes well, you may even get some social proof together before the big weekend.
Cons: Advertising costs money that could possibly be better spent elsewhere.
Listen to the full episode above for a more in-depth review of each pre-selling strategy and more tips on how to pull off the ultimate Cyber Weekend promotion!
xo, Tracy
Links:
The Ultimate Holiday Sales Machine
Apply for a Free Business Accelerator Audit
Virtual Trunk Shows That Sell Done For You Bundle
Episode 268: Here's How to Have the BEST Black Friday – Cyber Monday Promotion This Year
Waitlist for the BIPOC scholarship